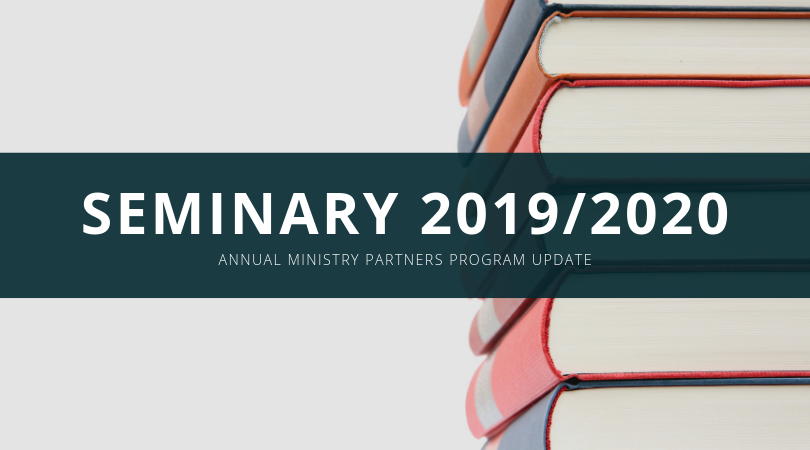 Every year (at least once a year) I share an update to my followers and donors who have given toward my tuition expenses for seminary. This year, I am posting to my new blog here at www.MinistersHelper.com. (So, be sure to "sign up" on the home page if you want email notification updates in the future about what I've been up to in seminary and ministry.)
At Asbury Theological Seminary I have been participating in the Ministry Partners Program which facilitates helping individuals, groups, and churches who would like to give for the purpose of helping me live out my call to ordained ministry and graduate from seminary with the least amount of debt possible.
In this post I'll share some stats when it comes to grades, credits earned, and credits to go! You'll also see more about about the impact this program has had on my life and what I hope to do in the coming years. For those of you who are to-the-point kind of people or just curious about finance number, here are the stats on fundraising goals as of February 17, 2020.
Goal to meet by June 2020 = $27,920
To-Date (raised since Fall 2016) = $14,473
Actual tuition costs to-date (covered by the program) = $41,832 (That's $27,359 more than I have actually raised and $13,912 more than I should raise by June 2020 to stay in the program.
So, if I can't meet my goals come June by raising the goal total $27,920, which is partial cost of tuition, then I have to let go and find other ways to cover tuition expenses.
Grades and Credits
To say the least, this season in my life has been quite a challenge. While not my most recent class, I did take Greek at one point and have never been so excited about a "D" in my life!!!! Certainly I have many A's and B's, but there is nothing like working your heart out and being able to celebrate making it through a difficult season. Yes, these seminary classes can be really tough and it doesn't help that my degree requires more than most (more than all that I have found so far) at 96 credit hours for a Master of Divinity. However, this has proven to be worth the work and time.
At one semester or another I have taken as few as 3 credits in a summer and 10 credits, all while still working full-time, being church lady, and being a wife and mother. Fortunately, I have not had to re-take a class yet. That said, there have been many lessons learned and many I hope to never repeat. I have no plans to rush and get it done anymore. I am worth the self-care and my God and family need me too much. Burn out is just not worth it.
My current GPA is 3.27 on a 4.0 scale to-date. This makes me want to shout thanksgiving for all of the support financially, help reading over some of my work, feedback from peers and professors, childcare, mini homework retreats away from home, a patient husband, and kids who seem so with it and willing to support me even when it means time away from them.
To date, I have completed 54 credit hours and have 42 remaining. 18 of these hours are "on campus" and I need at least 32 "on campus" hours to fulfill ordination requirements. While I much prefer this to online learning, the time away from home and family is difficult and even more so if I also must keep a full-time job. Your prayers as I discern which classes to take and what classes I can manage in my schedule would be greatly appreciated.
Work, Family, and Life
As of July 31, 2019 I was laid off from my full-time job and have not yet figured another income base that is sustainable for my work-life. My husband and I also have until the end of October to figure how we will approach health insurance for me and our 3 kids. While the finances of things are up in the air, I am thrilled to be substitute teaching and it has been a joy being back in the classroom. Amidst my studies in seminary I will also be preparing to re-take praxis exams to renew my teaching certification and working toward building this ministry that is www.MinistersHelper.com as well as related products including the Purpose Journal: Pray Every Morning. Pray Every Month edition. This website is my passion. So, your prayers and help making it sustainable would make a world of difference.
Certainly, support so that I can keep this tuition covered would help within this particular season and I'll be sure to include a link at the end with how you can participate in the Ministry Partners Program that has been covering that expense with donor support.
Major Ministry Commitment
Many of you may already know, but I am the first alternate as a delegate to General Conference 2020 and a delegate for Jurisdictional Conference 2020 of The United Methodist Church. In short, this is a big deal in our denomination and I am honored to be one who has been elected to represent our church body as a member of the Tennessee Conference.
As part of this work, my husband and I are leading in sub-committees as part of our conference delegation. He was also elected to Jurisdictional Conference, but on the clergy ballot. :-) I am sure that when these dates come around it will be a challenge for the kids with us being away from home to attend these conference gatherings. Babysitting and support for the grandparents would be super helpful. I'll take as many momma and daddy fill-ins as I can get to love on our munchkins while we are away.
Blessed to Be a Blessing
While I have been learning a lot and found so much help making this seminary season possible, I feel I have been all the more blessed to be in ministry during seminary and even in this very moment because of this Ministry Partners Program and the love and support of my church, family, and friends.
It is a gift to be part of the connectional body that is The United Methodist Church and I hope to one day serve in pastoral ministry in this denomination. In the mean time, there is much a lay person can do and I am living into that role.
Having been able to serve and support the ministries of Belmont United Methodist Church in recent years, it was a bit bitter sweet to move with my family to Connell United Methodist Church as my husband began his first year as an elder in full connection, ordained in The United Methodist Church. Belmont has been a gift to me and my family and Connell has taken us into their arms in ways I could never have imagined. In my gratefulness to continue to work of Christ in a loving community of faith I can't help but find ways that God has for me to be active in ministry in this new place for us. It is a gift to sing, pray, and be present in ministry with the members of Connell. I look forward to many plans and opportunities in the works as well.
I continue to be a part of the Circle of Grace prison ministry at the Tennessee Prison for Women as well as other volunteer opportunities outside of the traditional church model and context. Additionally, there is also that wonderful gift of an opportunity that is preaching and while I have had a number of opportunities to serve in this way over the past year, I look forward to many more in the coming year. (Yes, lay members can and should preach! Be encouraged and speak with courage friends.)
How to Give
If you opt to give a recurring donation of support (monthly or quarterly) I will give you a free enrollment link to use or share upon receipt of each contribution.
To offer your support online, visit https://myats.asburyseminary.edu/mpp. (Note: Credit/Debit card automatic withdrawal can be done through Asbury's secure online form.)
To send in a check, please make it out to Asbury Theological Seminary and send to Asbury Theological Seminary. It would be helpful to fill out a form from the brochure or provide the following information on a separate document as well.
Student you are supporting in ministry: Linda Furtado
Advise if you would like an Electronic Fund Transfer
For example: "I would like to set up an automatic EFT withdrawal:
Bank Name :
Signature :
Date :
Account Number :
Routing Number :

Send your check and supporting document to Asbury Theological Seminary at 204 N. Lexington Avenue, Wilmore, KY 40390
For questions please call 859.858.3581

Ministry Partner Program Online Donor Form:
https://myats.asburyseminary.edu/mpp